When government officials block people from viewing or commenting on social media pages, they may be violating constituents' First Amendment rights.
The right to critique public officials lies at the very heart of the First Amendment. Court rulings binding on West Virginia have found that the official social media accounts of government officials and agencies are public forums.
However, public officials do have the right to restrict access to their pages under certain circumstances. That's why ACLU-WV has compiled this toolkit to help you better understand your rights. 
Has a government official blocked you on social media? Review the toolkit below to determine if your rights may have been violated.
First, take a look at our flow chart and try to determine whether there is cause for action.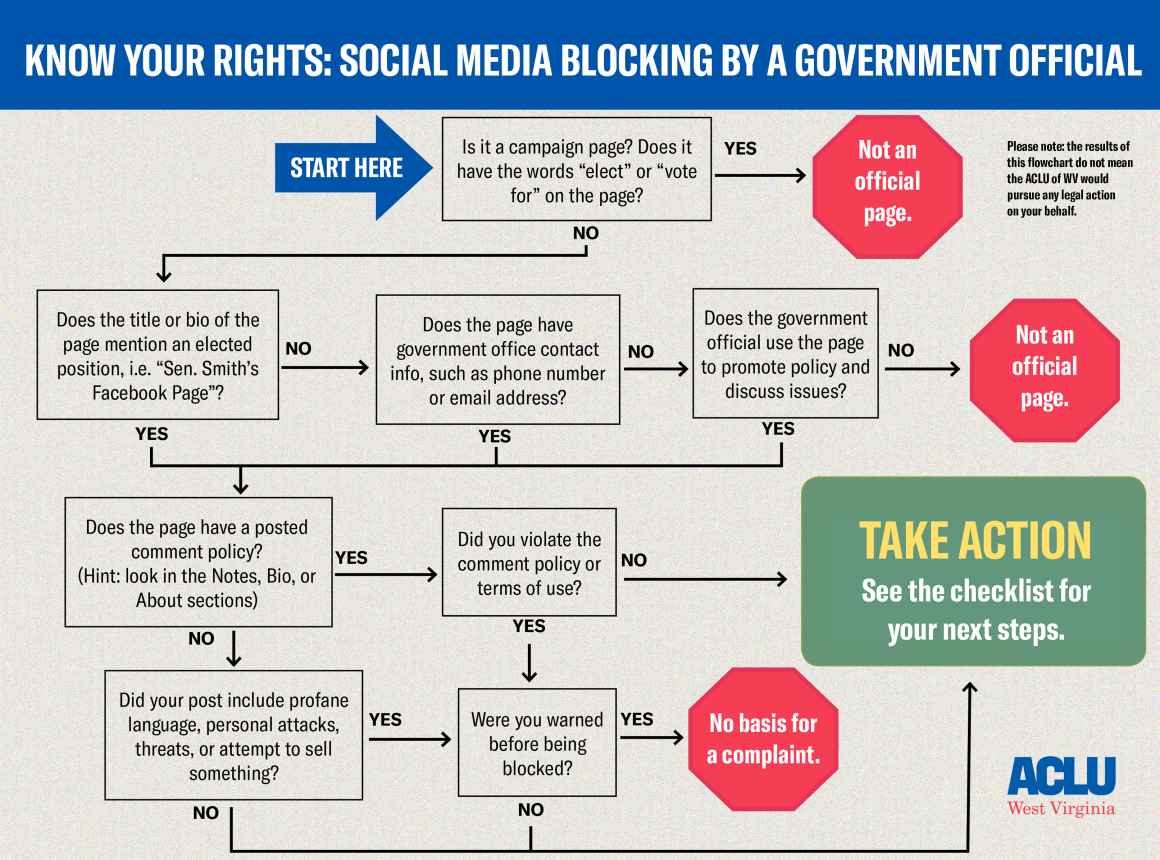 Next, if you think there is cause for action, consider this checklist. 
Take photos or screenshots of the account that blocked you, including your posts if they are still visibe or archived.

Learn why blocking constituents on social media could be unconstitutional and violates their rights. Read the blog from ACLU National "Can a Government Official Block You on Twitter?" Or, read our letter to every state lawmaker in West Virginia explaining why blocking constituents violates the First Amendment here.

If you think your rights were violated, contact the representative who blocked you by email or phone first and ask to be unblocked. This tends to resolve 50 percent of issues.

If this attempt is unsuccessful, 

feel free to use our non-legal form letter templates (located at the bottom of the page) to demand that you be unblocked. 
If all of this fails, reach out to ACLU-WV using our legal intake form. Please note that we are a small staff and we can only take a very small number of legal cases each year.